TMJ Software Master Support Plan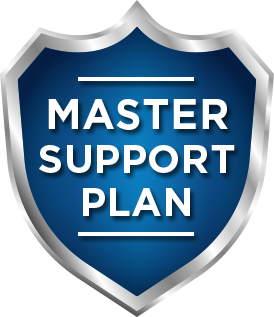 The Master Support Plan is for customers who own more than one of TMJ Software's products. This option allows you to buy support for more than one product and when you do that you get a reduced price for each successive product that you add.
The cost for an annual support plan for a single product is $39.95. If you add a second product the added cost for product #2 is $29.95 and if you add a third, fourth or fifth, it will be at further reduced price as shown in the graphic below.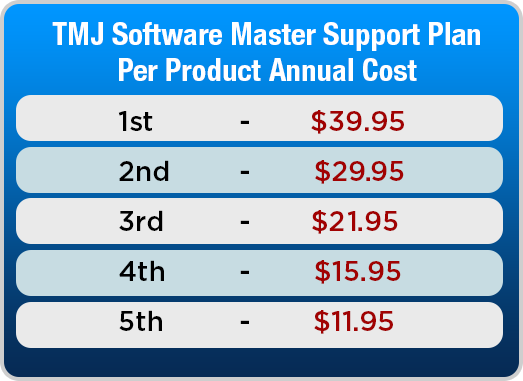 When you buy a support plan, whether for one product or multiple products it covers the number of machines associated with that purchase. For example, if you buy a plan for Song Surgeon, it will provide coverage for up to 3 machines, which is the number of licenses associated with a Song Surgeon purchase. If you buy a plan that includes Download Surgeon, the plan will cover a single machine, because your purchase of Download Surgeon comes with a license for one machine. If you own two copies of Download Surgeon and would like to cover both, then you would need to buy 2 copies of the support plan.
Support plans are available for the current versions of our products only. If you have an older version for which you'd like assistance you should consider buying the newest version of the produce which will come with free support for at least the first year. Alternatively you can buy Incident Support which is 1-time support for a specific product for a specific issue.
Step 2: Payment Method